Your roof and exterior surfaces are not just dirty… They are being DECOMPOSED and DETERIORATED by micro-organisms like algae, mold, and fungi. SANITIZING and DISINFECTING these surfaces will preserve and protect your exterior.
Why Choose Skyline Softwash?

The Safe Alternative to Pressure Washing
Softwashing allows us to clean surfaces without the risk of damaging or deteriorating them with high pressure cleaning methods like pressure washing.
Softwash Systems Certified
Each and every one of SoftWash Systems Authorized Professionals has been through the industry's leading certification and vetting process. Cleaning companies that carry this shield meet the highest of standards. A SoftWash Systems Authorized shield means you are getting the BEST in the exterior cleaning industry.
Good Stewards Pledge
All of our cleaning solutions are biodegradable, water-based, low-VOC, non-hazardous, and fossil fuel-free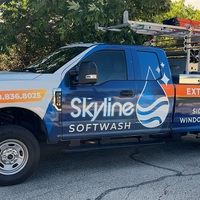 Contact us today to schedule your appointment!