Commercial
Carpet & Upholstery
The carpets and furniture in your facility are a significant investment, deserving a high level of care and attention. By utilizing techniques appropriate for your office and facility, applied by IICRC trained technicians, Skyline ensures your carpets are protected and maintain their original beauty.
Request A Quote
"I wish to thank you for the efforts to make my company shine in the eyes of our tenants. We are committed to providing the best service possible. Your attention to detail and your continued efforts have helped us meet our goal year after year."
Andrew Van Haren – The Gialamas Company
"We have always been so impressed with the cleaning that your crew does here at Shoutlet. There have been many nights where I have worked late, and your staff is always so courteous and mindful of people who are still working into the evening hours. ."
Rachel Allen – Executive Assistant
"We have trusted Skyline Services to clean our home for over five years. They are extremely detail oriented, professional, and place a high value on customer satisfaction. They are a pleasure to work with and keep our home looking great!"
Marta and Aris Gialamas – Residential Cleaning Customers
"Working with Skyline is one of the best things that has happened to me in a decade!"
Heather Irwin – Residential Cleaning Customer
"Skyline has been a fantastic company to work with. As a busy household with young children, the extra help is a necessity. The Skyline staff are professional, trustworthy, and consistent. And Linda, one of the owners, goes above and beyond to communicate with our family (in our preferred method- email!) to ensure we are all on the same page. I highly recommend Skyline for any busy family!"
Christina Spector – Residential Cleaning Customer
"I have used Skyline Services for ten years and frequently recommend them to my friends, colleagues, and clients. They are prompt, dependable, reasonable, and they do a great of cleaning. Best of all, their customer service is awesome!"
Jill Stiegler, Realtor – Residential Cleaning Customer
Your Local Professional Carpet Cleaning Service
Professional Cleaning Services That Create Peaceful, Healthy Environments For Madison Area Businesses
Skyline Clean


Commercial Carpet & Upholstery Cleaners Madison, WI
Carpet cleaning is an important service to maintain a clean and healthy professional environment. No matter the overall state of your workspace, if your carpet is dirty, stained, and worn, it may not create an enjoyable atmosphere.   
Skyline's carpet and upholstery cleaning services began with the mission of creating a more professional and healthy space for our customers to work in while also creating a more professional presentation for their business. Although it began with simple cleaning tools, we have grown to a top-of-the-line truck mount carpet cleaning machine, used to produce the high-quality product you see today.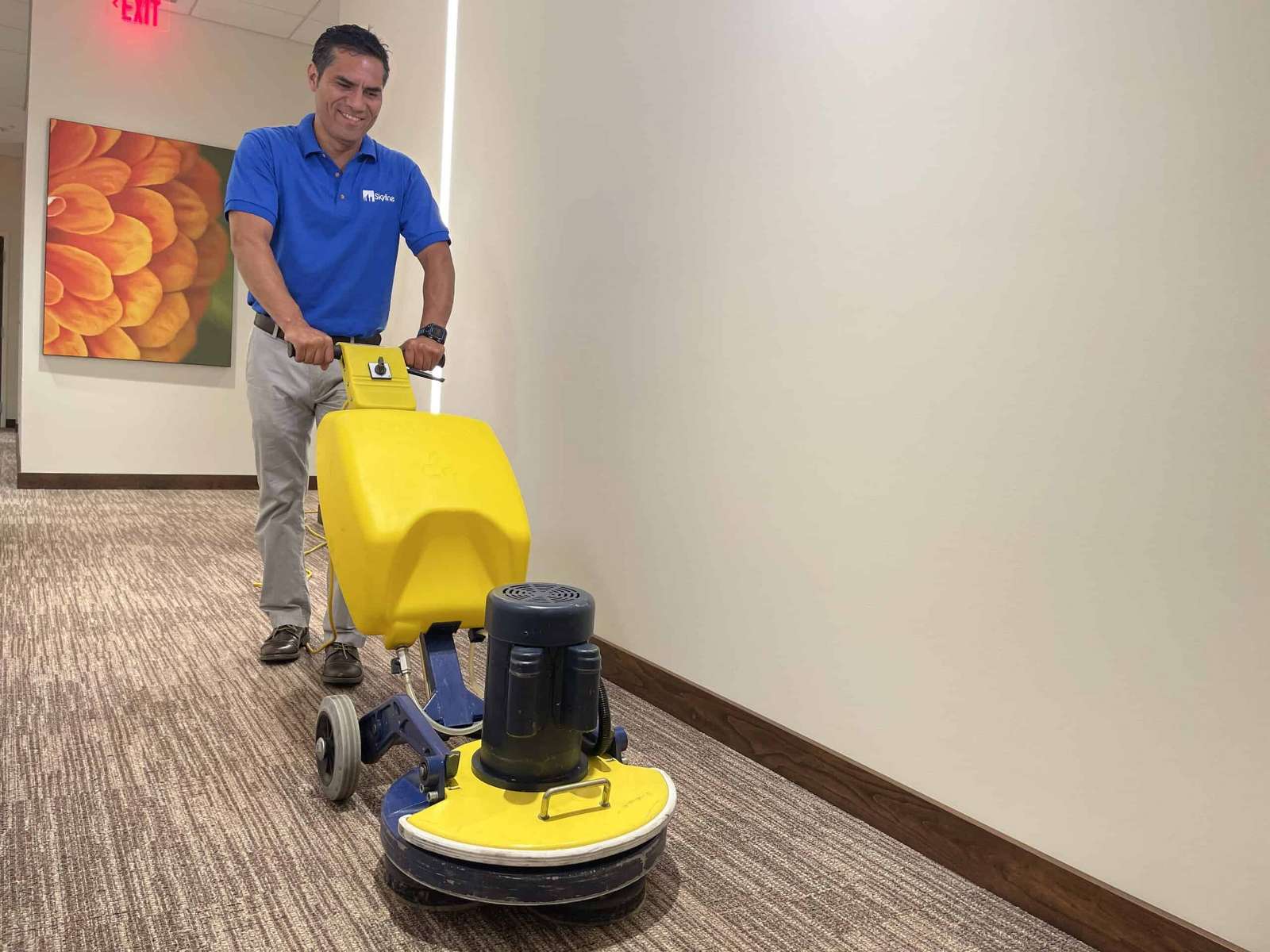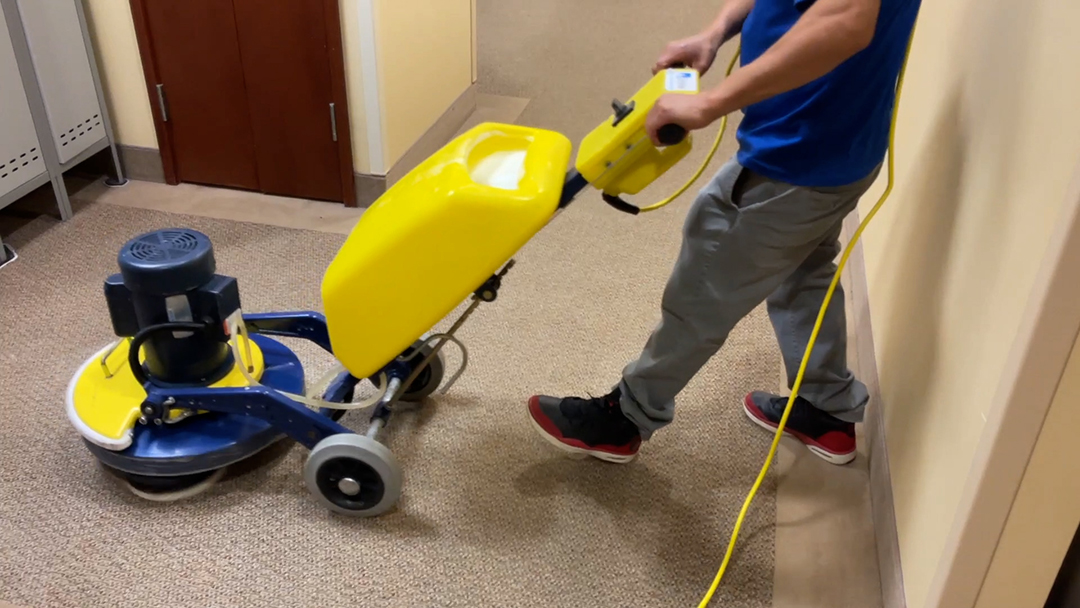 Consultation
It all begins with a conversation. Whether we are cleaning your beloved home or your successful business, our first step is to listen and understand your unique situation.
Solutions
Together we'll craft a cleaning plan to fit your space, time, and budget. Bringing order and cleanliness to your work or home environment is our passion. The Skyline team loves a good challenge, and we meet it head on.
Performance
We know actions speak louder than words, and we are committed to excellence. From Skyline's management team to our professional cleaning staff, we take pride in our work and delivering on our promises.
Results
We achieve exceptional results by building trust, meeting schedules, and providing great service. For us, success is more than leaving behind a clean space; it means leaving behind delighted, long-term customers.
Carpet Extraction is the most thorough carpet cleaning method, capable of restoring your carpets to their original look and feel. The first step in this process of restoration is the application of an environmentally friendly pre-cleaning spray.  This product fights dirty carpets at the fiber level, causing dirt to crystalize and break free from the individual fibers. Then through agitation and heat, the dirt is released from the fibers and easily removed through the built-in wet vacuum. Fans are placed in the area, leaving your carpets dry and clean. At Skyline Clean we strive to make our customer's experience both enjoyable and stress-free. Our truck-mount system needs no water hookup on-site, reducing the risk of water damage and increasing operational efficiency.
As time progresses, and your carpets continue to build up with various forms of dirt, you need a thorough carpet cleaning solution. Key benefits of carpet extraction include:
     • It removes years of soil buildup 
     • It allows for easier maintenance
     • It preserves your investment
Our truck-mount system produces many benefits compared to a standard carpet extraction system. It is more efficient, helping our staff be in your space for a minimal time.  It is more complete, allowing our staff to clean your carpets with no onsite water hookups. And it is more effective, leaving a stunning result product that also dries.
Much like carpet extraction, carpet encapsulation utilizes a dirt crystalizing product to ensure maximum effectiveness. The key difference is in the equipment used. Encapsulation agitates the carpet and then relies on future vacuuming to remove the crystallized dirt. This service is recommended as regular maintenance service, as it is less thorough than our carpet extraction service.
Once your carpet has been extracted, it is often unnecessary to do such a thorough cleaning in the near future. This is why we recommend carpet extraction as a maintenance cleaning in between carpet extraction services. This service has a few key benefits: 
     • It is more budget-friendly
     • It uses less water
     • It allows for regular maintenance
Dirty carpets are often overlooked, but the benefits of a well-maintained carpet extend beyond its physical appearance. A poorly maintained carpet causes soils, sands, and dust to accumulate in the fibers of your carpet. This buildup is often the source of poor air quality and appearance. This is why regular maintenance of your carpets is extremely important. It not only improves the physical appearance of your space, but the very air you breathe.
Often, one slip of the hand can ruin the look of your beautiful white carpet. Whether it be wine, ink, gum, or any other kind of stain, we have the right technicians, products, and equipment at Skyline Services. The appropriate product will be applied to the spot, and then a compact extraction machine will be used to remove the spot from the fibers of the carpet, returning it to its purest state.
Often, your carpet is not the only fabric surface that needs attention in your office. Maybe it's the conference room chair that's seen one too many meetings or the break room couch that serves as everyone's favorite lunch spot. Regardless, Skyline Services has the tools, and the well trained technicians to address any of your upholstery needs. Our commercial grade upholstery cleaning tools produce an excellent product that improves appearance and removes odors, making your furniture more inviting. 
At the core of Skyline Services' commercial protection services is the application of Scotchgard, a trusted and effective fabric protector. Scotchgard forms an invisible barrier that repels liquids, stains, and dirt, making it an invaluable tool in safeguarding commercial upholstery and furnishings. By preventing spills from penetrating the fabric, Scotchgard significantly reduces the risk of permanent staining and extends the lifespan of furniture, carpets, and other upholstery materials.
At the heart of Skyline Services' commercial dry carpet cleaning services lies the use of HOST Dry Compound, an innovative and highly effective cleaning solution. Unlike traditional wet carpet cleaning methods that involve excessive moisture and drying time, HOST Dry Compound utilizes a low-moisture approach that delivers exceptional results. The compound consists of natural, biodegradable ingredients that are safe for carpets and the environment.
Skyline Clean has been in the cleaning industry for almost 40 years providing our clients with a healthy, protected workspace. We are certified by The Carpet and Rug Institution and Product Green Seal. We serve office buildings to event centers. Work with us and get the best service in the business, 100% satisfaction guaranteed!
Request A Quote
We would love to hear about your upcoming cleaning project.  Contact us and we'll work with you to create an effective cleaning plan based on your current needs.
Our Carpet & Tile Cleaning Gallery
Frequently Asked Questions
HOW DO YOU STAY IN TOUCH WITH YOUR CUSTOMER'S CHANGING NEEDS?
Everyone at Skyline agrees that speedy response time is important for maintaining happy customers. Our management team utilizes a variety of communication tools to stay in touch with you, including our customer portal, service email address, website contact form, text messages, and good old fashioned phone calls. In most cases, we will return your message immediately or within the space of two hours.
ARE YOU BONDED AND INSURED?
Yes. Our professional cleaning team is fully bonded and insured. Skyline Services, Inc. carries comprehensive liability coverage that exceeds industry standards. If you would like a copy of our certificate of insurance, please call our office (608) 836-8025 or email [email protected].
WHAT IS YOUR PROCESS FOR QUALITY CONTROL?
Once your cleaning plan is in place, we will establish benchmarks and standards for your commercial space, schedule supervisory visits to evaluate performance, seek your feedback, and strive for continuous process improvement. We are proud of the fact that our ratio of supervisors to team members is greater than other area cleaning companies, which guarantees better security and oversight for your business.
WHAT ARE MY PAYMENT OPTIONS?
Skyline strongly encourages our customers to use paperless, electronic payments. For your convenience, invoices are sent by email and include a link for on-line payment through Intuit. We also have the ability to set your company up with monthly ACH withdraws through our bank if you would like.
Some customers chose to pay with their own on-line banking methods or send a check in the mail. If you would like more information about these payment options, please email [email protected] or call (608) 836-8025.
HOW LONG WILL IT TAKE FOR MY CARPETS TO DRY?
The short answer to this question is around 4 hours for carpet extraction and around 30 minutes for carpet encapsulation. If you'd like to learn more about the factors that impact dry time, check out this post - How long will it take for my carpets to dry?
(608) 836-8025
3040 Laura Ln Ste 110 Middleton, WI 53562
Check Out Our Other Commercial Services
Skyline works closely with you to build and deliver professional cleaning solutions.
With our team of IICRC trained technicians & best in class equipment, Skyline ensures your carpets receive the proper care and attention.
We restore tile & grout to its original beauty by providing the optimal cleaning solution for your business.
After your construction project is finished, our construction cleanup services ensure an excellent presentation of the new space for your customer.
Clean windows create an inviting and professional workspace for both customers and employees.
Disinfecting & Sanitizing
Our Disinfecting & Sanitizing services provide the peace of mind that your business is a safe and healthy place for you and your team.
Pressure washing removes the toughest dirt and grim you'll encounter. Our hot water pressure washer handles the job with ease.
The Skyline team stocks and refills your supplies as needed so that they are there when you need them.
Our floor finishing services preserve the brilliant polished surface of your resilient flooring.