Skyline Carpet Cleaning
Carpet Encapsulation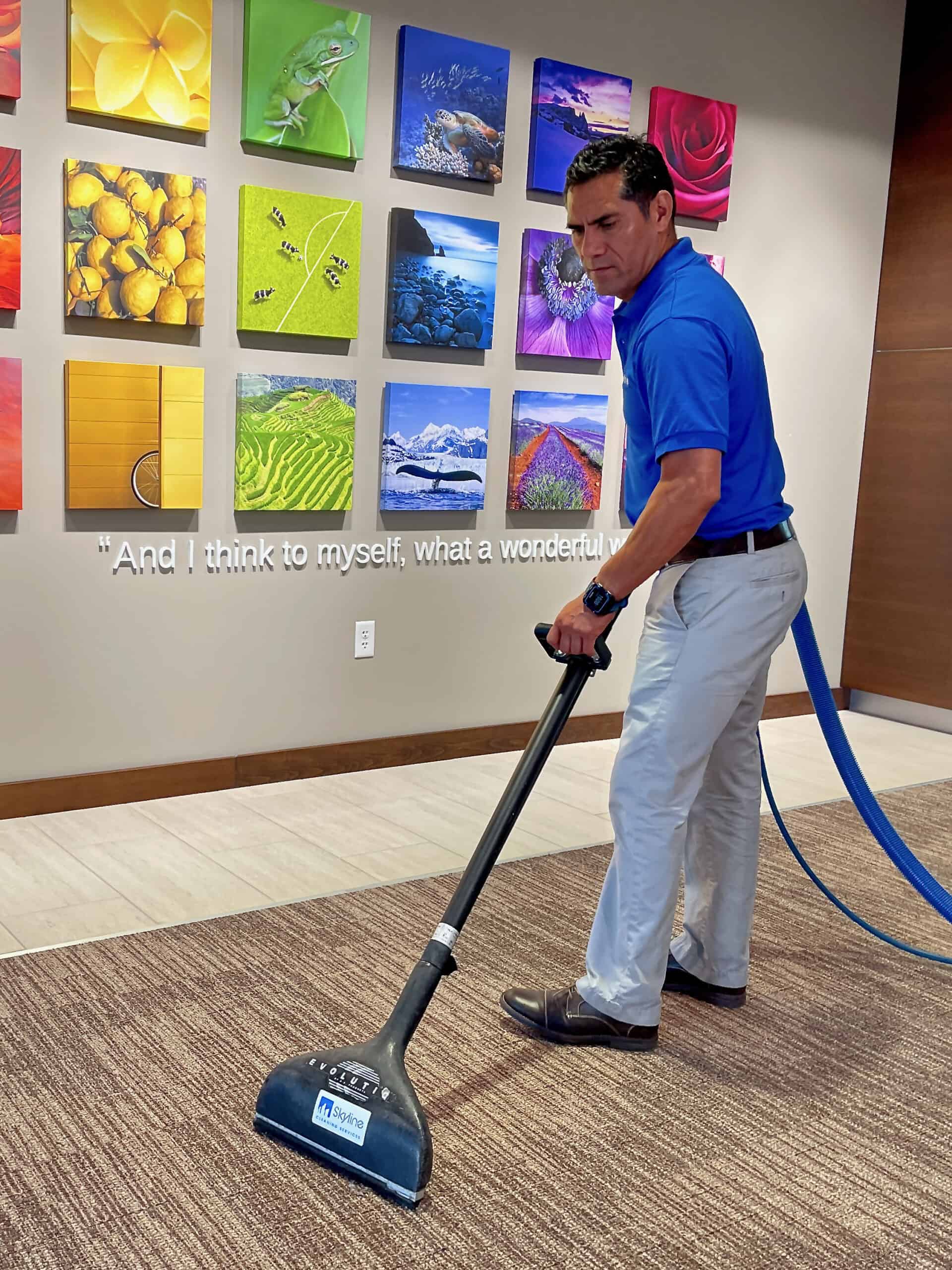 Skyline Services: Safeguarding Local Businesses with Commercial Protection Services Using Scotchgard in Madison, WI
Maintaining the longevity and appearance of commercial furnishings is crucial for businesses in the Madison, WI area. Skyline Services understands the importance of protecting investments and offers comprehensive commercial protection services using Scotchgard. With their expertise, cutting-edge techniques, and commitment to customer satisfaction, Skyline Services has become the trusted provider of commercial protection services in the region. In this article, we will explore the range of services offered by Skyline Services, focusing on the application of Scotchgard and its benefits in preserving and safeguarding commercial upholstery and furnishings.
A Commitment to Quality
Skyline Services prides itself on delivering exceptional quality in its commercial protection services. The company understands that businesses have unique needs, and their highly skilled professionals work closely with clients to develop tailored protection solutions. With years of experience in the industry, Skyline Services has established a reputation for excellence and has become the go-to provider for commercial protection services in the Madison area.
The Power of Scotchgard
At the core of Skyline Services' commercial protection services is the application of Scotchgard, a trusted and effective fabric protector. Scotchgard forms an invisible barrier that repels liquids, stains, and dirt, making it an invaluable tool in safeguarding commercial upholstery and furnishings. By preventing spills from penetrating the fabric, Scotchgard significantly reduces the risk of permanent staining and extends the lifespan of furniture, carpets, and other upholstery materials.
Benefits of Scotchgard
The application of Scotchgard offers numerous benefits for businesses in Madison, WI. Firstly, it provides a protective shield against spills and stains, allowing for quick and easy cleanup without leaving lasting marks. This feature is particularly crucial in high-traffic areas such as waiting rooms, restaurants, and office spaces, where accidents are more likely to occur.
Secondly, Scotchgard helps prevent wear and tear caused by daily use. By creating a barrier against dirt and debris, it reduces the abrasion on fabric fibers, preserving the appearance and texture of upholstery over time. This ensures that furniture and other furnishings maintain their visual appeal and remain in excellent condition for longer periods.
Moreover, Scotchgard also acts as a barrier against allergens and dust mites, creating a healthier environment for employees and clients. It inhibits the absorption of allergens into the upholstery, reducing the risk of allergies and respiratory issues. This is especially important for businesses that prioritize a clean and allergen-free workspace, such as healthcare facilities or educational institutions.
Comprehensive Commercial Protection Services
Skyline Services offers a comprehensive range of commercial protection services using Scotchgard to meet the unique needs of local businesses. Their experienced professionals are trained in the proper application of Scotchgard to different types of upholstery materials, including fabric, leather, vinyl, and more. Whether it's office furniture, carpets, or restaurant seating, Skyline Services has the expertise and resources to protect and preserve a wide range of commercial furnishings.
In addition to Scotchgard application, Skyline Services also provides thorough cleaning services before the protection treatment. This ensures that the upholstery is free from dirt, stains, and contaminants, allowing the Scotchgard to bond effectively with the fabric and provide optimal protection.
Flexible and Convenient Service
Understanding the importance of minimal disruption to business operations, Skyline Services offers flexible scheduling options for their commercial protection services. Their team works closely with clients to determine the most convenient time for application, whether during or after business hours. With their efficient and timely approach, Skyline Services ensures that the protection services are seamlessly integrated into the workflow, causing minimal interference.
Skyline Services stands out as a trusted provider of commercial protection services in the Madison, WI area. With their
Frequently Asked Questions
HOW DO YOU STAY IN TOUCH WITH YOUR CUSTOMER'S CHANGING NEEDS?
Everyone at Skyline agrees that speedy response time is important for maintaining happy customers. Our management team utilizes a variety of communication tools to stay in touch with you, including our customer portal, service email address, website contact form, text messages, and good old fashioned phone calls. In most cases, we will return your message immediately or within the space of two hours.
ARE YOU BONDED AND INSURED?
Yes. Our professional cleaning team is fully bonded and insured. Skyline Services, Inc. carries comprehensive liability coverage that exceeds industry standards. If you would like a copy of our certificate of insurance, please call our office (608) 836-8025 or email [email protected].
WHAT IS YOUR PROCESS FOR QUALITY CONTROL?
Once your cleaning plan is in place, we will establish benchmarks and standards for your commercial space, schedule supervisory visits to evaluate performance, seek your feedback, and strive for continuous process improvement. We are proud of the fact that our ratio of supervisors to team members is greater than other area cleaning companies, which guarantees better security and oversight for your business.
WHAT ARE MY PAYMENT OPTIONS?
Skyline strongly encourages our customers to use paperless, electronic payments. For your convenience, invoices are sent by email and include a link for on-line payment through Intuit. We also have the ability to set your company up with monthly ACH withdraws through our bank if you would like.
Some customers chose to pay with their own on-line banking methods or send a check in the mail. If you would like more information about these payment options, please email [email protected] or call (608) 836-8025.
HOW LONG WILL IT TAKE FOR MY CARPETS TO DRY?
The short answer to this question is around 4 hours for carpet extraction and around 30 minutes for carpet encapsulation. If you'd like to learn more about the factors that impact dry time, check out this post - How long will it take for my carpets to dry?
(608) 836-8025
3040 Laura Ln Ste 110 Middleton, WI 53562
Send Us a Message
Form in Homepage