Skyline Carpet Cleaning
Carpet Extraction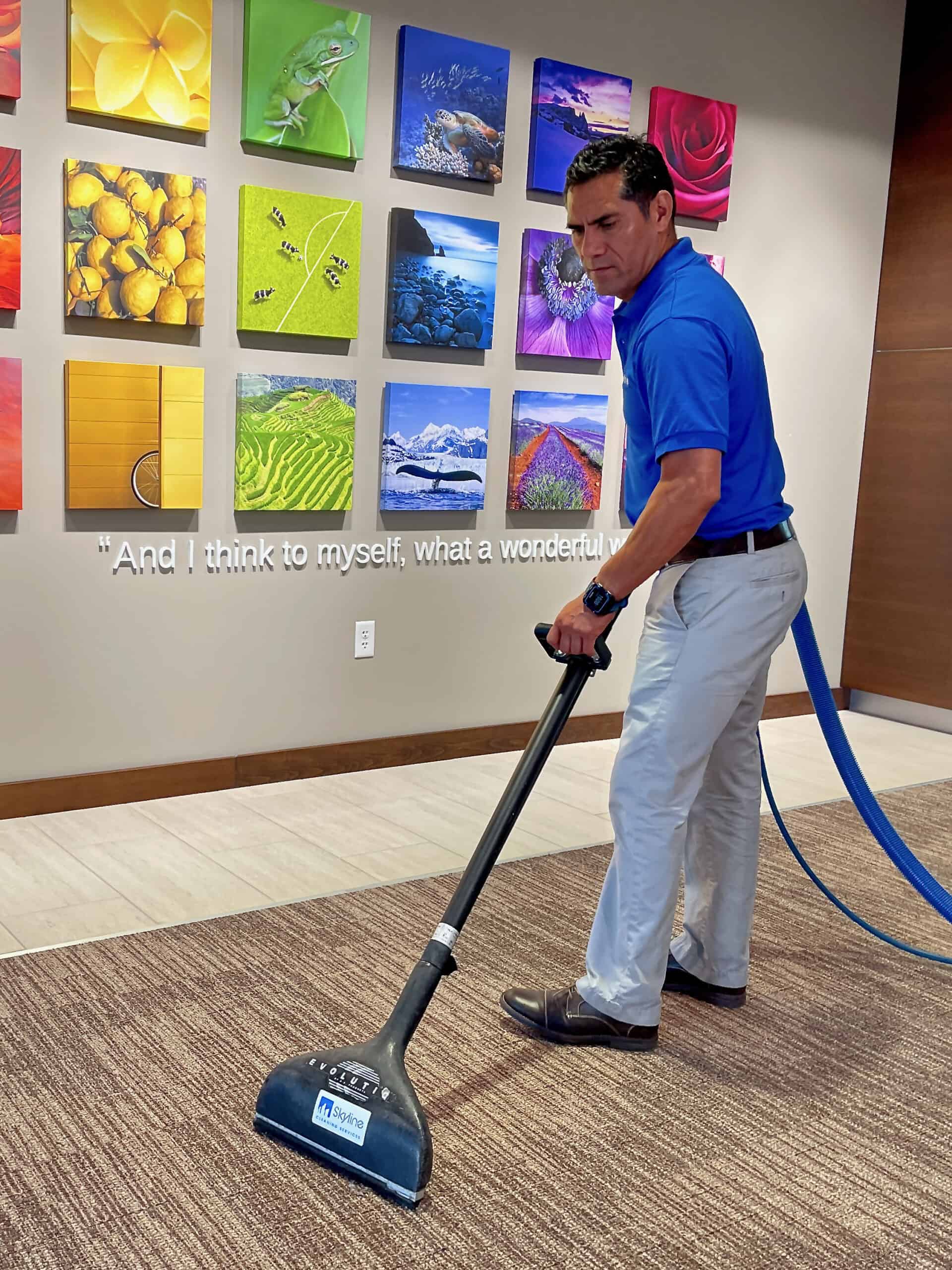 Roof Cleaning Overview
Roof cleaning is an essential part of home property maintenance that often goes overlooked. Over time, your roof can accumulate dirt, algae, bacteria, and other types of organic matter that can cause damage if left unchecked. Fortunately, there are ways to clean your roof effectively without causing any damage. The best method of cleaning your roof is called Soft Washing.
What is Roof Soft Washing?
Roof soft washing is the safe alternative to pressure washing.  It is a method of cleaning roofs that involves using low-pressure water streams, and specialized cleaning solutions to remove dirt, grime, and other organic matter. This method is much gentler than traditional power washing, which will damage your roof and lead to costly repairs.
What types of Roof do you Clean?
Asphalt Shingle – The most common type of roof we clean is an asphalt shingle roof. This type of roof benefits greatly from Soft Washing since its aggregate is limestone, the primary food source of most organic materials.
Metal Roofs – These roofs benefit greatly from soft washing for either regular maintenance or in preparation for painting.  Roof cleaning will remove organic materials, and if desired, remove oxidized paint to leave a fresh and beautiful roof.
Slate Roofs – Some of the most beautiful roofs are slate roofs.  We love seeing the transformation that takes place when the natural color and beauty of a slate roof is revealed.  These roofs are very expensive and help to easily justify the cost to clean them and protect your significant investment.
Wood Shingle Roofs – These roofs are beautiful, but also require very special treatment.  If high pressure is used, you will destroy the wood shingles protecting your home.  Soft washing is the perfect solution to clean and restore your wood shingle roofs.  We even finish the job by applying a UV protector to re-moisturize and protect your roof.
Why should I clean my roof?
Many people wonder, why do I need my roof cleaned? This is a very valid question and one that we used to ask as well. To start you need to understand a few basic facts. First, the growth that you may (or may not see) on your roof is a living organism that is most commonly Gleocapsa Magma, or may include other types of algae, lichens, bacteria, etc. The exact type of living organism is generally unimportant. What is important is that it is living and therefore needs to eatto survive. So what does it eat? It eats limestone and limestone is the aggregate that is used in asphalt shingles.  The natural result of this is that your roof deteriorates much more quickly because it is literally being eaten and eroded.
Steps Involved in Roof Soft Washing
Prepare – Our top priority it to protect your property, so the first thing we do is identify and protect any delicate surfaces or items around your property, including plants.
Hydrate – The next step is to hydrate all plants in the area that we will be cleaning, including grass.  By diluting with water, we help keep the pH levels of the plants at a neutral state.
Service – Once the property is prepared and all the plants are hydrated, we can begin the cleaning process. We work from top to bottom, left to right while carefully sanitizing every exterior surface.
Rejuvenate – After the cleaning service is completed, we once again rehydrate the plants to ensure our cleaning solution is thoroughly diluted, and then we spray them with our proprietary plant-care solution.
Clean Up – When we are finished, we carefully roll up our hoses, collect equipment, and leave your property in better condition than how we found it.
Benefits to Roof Softwashing
There are several benefits to using roof soft washing over other roof cleaning methods, including:
Protection – Soft washing is a gentler method that helps protect your roof from damage, extending its lifespan.
Efficiency –  Soft washing can effectively clean your roof without the need for high-pressure water or harsh chemicals, making it more efficient and eco-friendly.
Aesthetics – Soft washing can help improve the curb appeal of your property by removing unsightly stains and streaks.
Safety – Soft washing is a safer option than power washing since it uses lower pressure and doesn't risk damaging your roof or injuring people or pets in the area.
When should you consider Roof Cleaning?
It's important to consider roof soft washing when you notice that your roof is accumulating dirt, grime, or organic matter. Some signs that you may need a roof softwashing service include:
Discoloration or stains on your roof
Algae or moss growth
Accumulation of debris or leaves on your roof
Increased energy bills due to poor roof insulation
In general, it's recommended to have your roof cleaned every 2-5 years, depending on your location and the type of roofing material.
Choosing a Professional Roof Cleaning Service
To ensure that you get the best results from your roof soft washing service, it's important to choose a professional and experienced service provider. Look for a provider that:
Has experience with soft washing roofs and can provide references.
Is a member of Softwash Systems.  Softwash Systems is the industries leading and only true certification source for ensuring that whoever you work with has the best training, equipment, and staff to complete your project.
Uses safe and eco-friendly cleaning solutions.  Skyline Softwash follows the Good Stewards pledge, which means that we only use eco friendly products during our cleaning process.
Offers a guarantee or warranty for their work.  We offer a 5 Year Warranty on our Roof Cleaning services.
Has liability insurance to protect your property.
Conclusion
Roof soft washing is a gentle and effective way to clean your roof without causing damage. With the right service provider, you can protect your roof, improve your property's curb appeal, and enjoy a more efficient and eco-friendly cleaning solution.
Frequently Asked Questions
HOW MUCH DOES ROOF CLEANING COST?
Soft Washing is not the cheapest cleaning method, but it does bring the most value.  Skyline Softwash is also not the cheapest cleaning service, but we will bring the most value.  There are companies out there that will show up for very little and pressure wash your roof or soft wash it using improper techniques and under-trained staff.  This may seem appealing due to the low upfront cost, but it's highly likely to result in greater costs down the road when things are damaged or need to be recleaned far too soon. 
ARE YOU BONDED AND INSURED?
Yes. Our professional cleaning team is fully bonded and insured. Skyline Services, Inc. carries comprehensive liability coverage that exceeds industry standards. If you would like a copy of our certificate of insurance, please call our office (608) 836-8025 or email [email protected].
WHAT ARE MY PAYMENT OPTIONS?
Skyline strongly encourages our customers to use paperless, electronic payments. For your convenience, invoices are sent by email and include a link for on-line payment through Intuit.
(608) 836-8025
3040 Laura Ln Ste 110 Middleton, WI 53562
Send Us a Message
Form in Homepage