Residential




Softwash


Madison, WI

Your roof and exterior surfaces are not just dirty. They are being DECOMPOSED and DETERIORATED by micro-organisms like algae, mold, and fungi. SANITIZING and DISINFECTING these surfaces will preserve and protect your exterior.

Request A Quote
The Safe Alternative to Pressure Washing
Soft Washing allows us to clean surfaces without the risk of damaging or deteriorating them with high-pressure cleaning methods like pressure washing.
Softwash Systems Certified
Each and every one of SoftWash Systems Authorized Professionals has been through the industry's leading certification and vetting process. Cleaning companies that carry this shield meet the highest of standards. A SoftWash Systems Authorized shield means you are getting the BEST in the exterior cleaning industry.
Good Stewards Pledge
All of our cleaning solutions are biodegradable, water-based, low-VOC, non-hazardous, and fossil fuel-free
Softwash Systems
At Skyline Services, we are proud to be members of SoftWash Systems, a leading authority in the soft washing industry. As a member, we have access to state-of-the-art technology and the latest training and techniques in soft washing, allowing us to provide our clients with exceptional results while also protecting their property and the environment. Our membership in SoftWash Systems reflects our commitment to delivering safe, effective, and eco-friendly cleaning solutions for our clients' homes and businesses. Whether you need roof cleaning, house washing, or other exterior cleaning services, Skyline Services has the expertise and resources to get the job done right.
The Seal Background Checks
The team that we sent to your home, from the managers to the technicians, have all passed a 3rd party background check through "The Seal".  This organization ensures that you can feel safe with our team.  They confirm that we are licensed, ensured, and that every member of our team has a clean record.  Learn more Here.
"I have had Skyline cleaning my home for the last 12 years, and I have found them to be honest, reliable, excellent cleaners who are willing to go the extra mile to meet my needs. ."
Mary Kelly – Residential Cleaning Customer
"I hired Skyline Services to clean a relative's house that I was selling. The house was in terrible condition, and they did an incredible job making it presentable. Due to their work, the house was presentable for prospective buyers, and helped it sell. I was so impressed with the work that I've hired them to clean my house on a regular basis for the last three years. They're dependable, reliable, and do really quality work. I'm most impressed with the way they do little things around the house that show a willingness to work hard. They also take great care to prevent my cat from getting out! They bring a real professionalism to the job which I appreciate."
Jon Staebell – Residential Cleaning Customer
"We have trusted Skyline Services to clean our home for over five years. They are extremely detailed oriented, professional, and place a high value on customer satisfaction. They are a pleasure to work with and keep our home looking great!."
Marta and Aris Gialamas – Residential Cleaning Customers
"I have used Skyline Services for ten years and frequently recommend them to my friends, colleagues and clients. They are prompt, dependable, reasonable and they do an great of cleaning. Best of all, their customer service is awesome!"
Jill Stiegler, Realtor – Residential Cleaning Customer
"Skyline is a wonderful company to work with. Their work is excellent and they are very accommodating. Skyline is great about working with you on all your cleaning needs and extra things you would like done. Linda is a joy to work with and is always helpful with scheduling, unexpected events and complete care of your home. She makes sure you are happy with everything worked on by Skyline's team of people. Thank you Skyline!."
Tammy Bremser – Residential Cleaning Customer
"Working with Skyline is one of the best things that has happened to me in a decade!."
Heather Irwin – Residential Cleaning Customer
"Skyline has been a fantastic company to work with. As a busy household with young children, the extra help is a necessity. The Skyline staff are professional, trustworthy, and consistent. And Linda, one of the owners, goes above and beyond to communicate with our family (in our preferred method- email!) to ensure we are all on the same page. I highly recommend Skyline for any busy family!"
Christina Spector – Residential Cleaning Customer
"I have used Skyline Services for ten years and frequently recommend them to my friends, colleagues and clients. They are prompt, dependable, reasonable and they do an great of cleaning. Best of all, their customer service is awesome!"
Jill Stiegler, Realtor – Residential Cleaning Customer
"Spring is here. We just realized that our Spring Cleaning "to do" list is much smaller than in the past. We are coming up on our first anniversary of using your service to keep our home clean and sanitized. Thanks again for talking us into using your service. We look forward to less housework each month."
Tom and Denise Tully – Residential Cleaning Customers
Your Local Professional Softwash Services
Professional Cleaning Services That Create Peaceful, Healthy Environments For Madison Area Homes
Skyline Clean


Residential Softwash Services
With over 35 years of experience, Skyline has learned how to produce excellent results.  By combining pressure, heat, and agitation, we can handle almost any spot.  Pressure washing is the preferred method for cleaning:
Concrete Driveways
Oil Stains in Parking Stalls
Masonry Walls
Concrete Outdoor Areas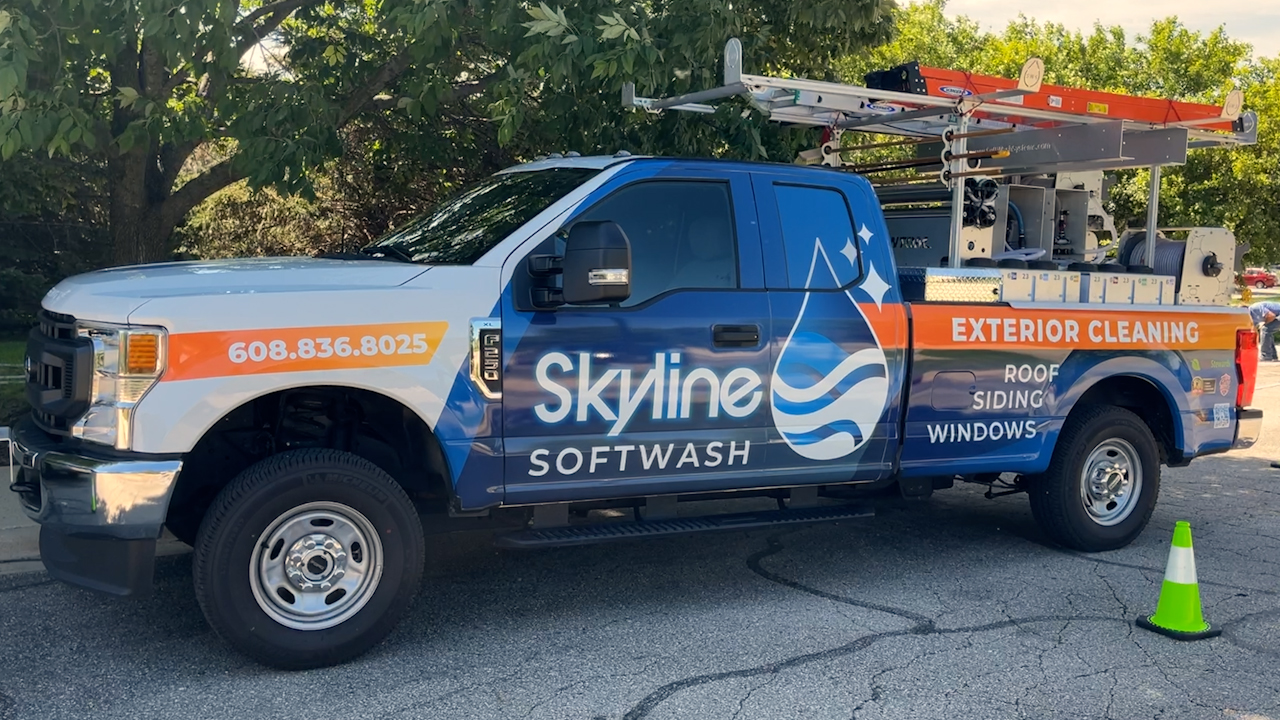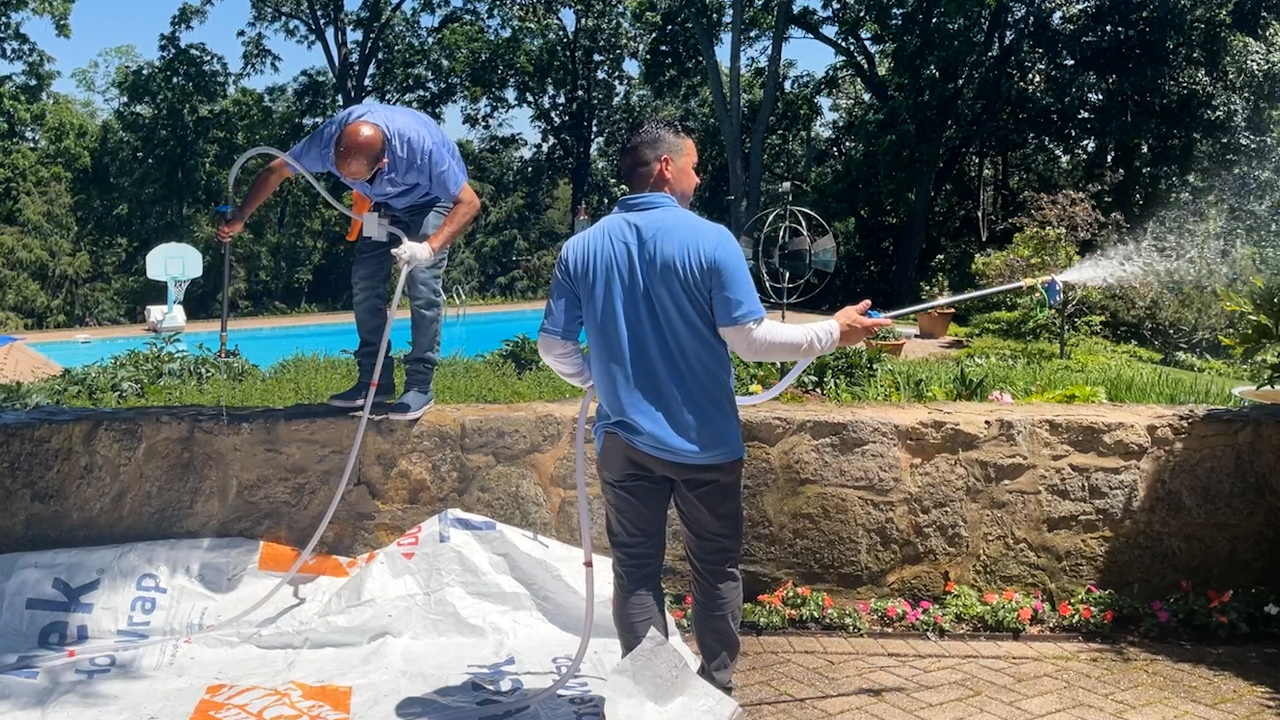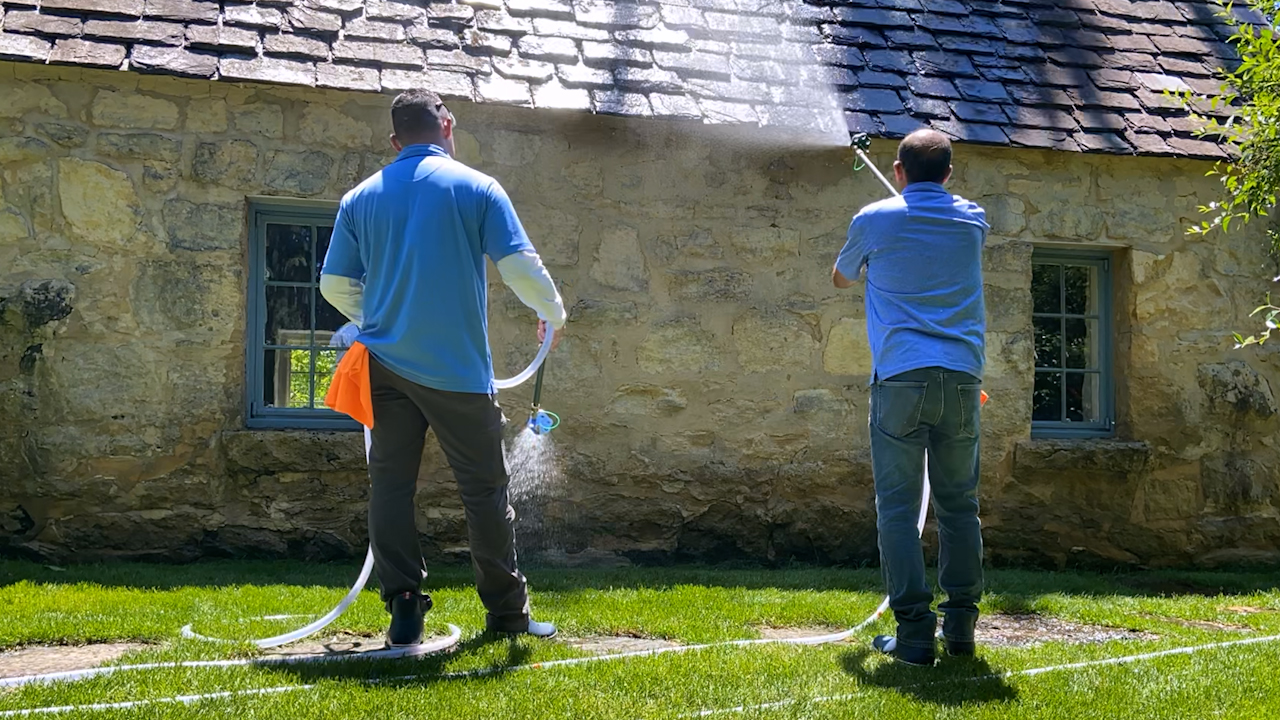 ROOF TREATMENT
Here in Wisconsin, bacteria and mildew builds up on roofs, leaving unsightly black spots and streaks. We see a lot of rust from vent pipes that leak down homes too. When we softwash your roof, we not only kill the organic growth that's eroding your shingles and tiles, we revive inorganic surfaces like tile, metal and powder coatings.
EXTERIOR & SIDING
Keeping your home's exterior sanitized is not only visually pleasing, it retains the value of your home. UV damage will wear down on your home, and cause siding to become brittle and crack when pressure is applied to it. SoftWashing rejuvenates exterior surfaces by providing a buffing agent to keep damage at bay until the next treatment.
DRIVEWAY & WALKWAYS
Our home's concrete surfaces see the most wear, leaving them to be highly susceptible to additional erosion from the blowing and blasting of a pressure washer, which can also reveal the aggregate under the surface. SoftWashing leaves a residual inhibitor to your surface that keeps them treated for 6x longer, guaranteed.
DECK & FENCING
Wood decks and fences are subjected to damage from organic growth, weather and UV rays. Annual treatment is a must to keep wood from degrading. SoftWashing treats and conditions wood, and provides a UV inhibitor to protect from the sun.
GUTTERS
Striping occurs when pollution, oxidation and dirt run down the gutters over a long period causing the unsightly stripes. SoftWashing delivers the right ratio of chemicals to the area leaving it spotless every time, while protecting soffits and fascia.
WINDOW WASHING
SoftWashing works perfectly with windows, where pressure is not necessary. We use low pressures to deliver our solution, which has a waxing agent to make them really pop when we're done. Our pure water final application leaves them spot-free.
SOLAR PANELS
Dirt and grime can reduce the efficiencies of solar power systems by almost 20%. Routine maintenance softwashing keeps your panels producing all year long.
POOL DECKING
Harmful organic growths can wear on pool surfaces causing them to be more slick and dangerous when wet. Our chemicals are 100% safe in the pool environment.
SCREEN ENCLOSURES
Dust, soot, rust and bacteria can sit on your screened enclosures for years until it's noticed. We have the perfect softwash solution to revive those screens to their former glory.
Consultation
It all begins with a conversation. Whether we are cleaning your beloved home or your successful business, our first step is to listen and understand your unique situation.
Solutions
Together we'll craft a cleaning plan to fit your space, time, and budget. Bringing order and cleanliness to your work or home environment is our passion. The Skyline team loves a good challenge, and we meet it head on.
Performance
We know actions speak louder than words, and we are committed to excellence. From Skyline's management team to our professional cleaning staff, we take pride in our work and delivering on our promises.
Results
We achieve exceptional results by building trust, meeting schedules, and providing great service. For us, success is more than leaving behind a clean space; it means leaving behind delighted, long-term customers.
Exterior Cleaning Services
Soft washing is a gentle and effective cleaning method used to remove dirt, grime, and other organic growth from exterior surfaces such as roofs, siding, and decks. Unlike pressure washing, which uses high-pressure water to blast away dirt, soft washing relies on a combination of low-pressure water and specialized cleaning solutions to break down and dissolve dirt and stains. The cleaning solution used in soft washing is customized to the specific needs of the surface being cleaned, ensuring that it is effective at removing dirt and stains without damaging the surface itself. Soft washing is ideal for cleaning delicate surfaces such as shingle or tile roofs, as well as painted or stained siding that may be prone to damage from high-pressure water. Additionally, soft washing is an environmentally-friendly cleaning method since it uses less water than pressure washing and the cleaning solutions used are biodegradable.
Pressure Washing Madison, WI
Skyline Services is proud to offer residential pressure washing services in the Madison, Wisconsin area. Our team of trained professionals uses top-of-the-line equipment to effectively clean a variety of outdoor surfaces, such as driveways, sidewalks, decks, and patios. We take great care to ensure that the job is done safely and effectively, and we use eco-friendly cleaning solutions that are safe for the environment. Our residential pressure washing service is an excellent way to remove dirt, grime, and other stains from outdoor surfaces, making them look clean and restored. We understand that every home is different, which is why we offer customizable cleaning plans to meet the unique needs of our customers. Whether you need a one-time cleaning or a recurring service, we are here to help. At Skyline Services, we are committed to providing high-quality residential pressure washing services at competitive prices and establishing a trusted and reliable reputation in the Madison area.
Request A Quote
We would love to hear about your upcoming cleaning project.  Contact us and we'll work with you to create an effective cleaning plan based on your current needs.
Frequently Asked Questions
HOW MUCH DOES SOFTWASH CLEANING COST?
Soft washing is not the cheapest cleaning method, but it does bring the most value.  We are also not the cheapest cleaning service, but we will bring the most value.  There are companies out there that will show up for very little and pressure wash your roof or soft wash it using improper techniques and under-trained staff.  This may seem appealing due to the low upfront cost, but it's highly likely to result in greater costs down the road when things are damaged or need to be recleaned far too soon.
DO YOU REALLY USE BLEACH TO CLEAN? ISN'T THAT DANGEROUS?
Bleach is safe for softwash cleaning when used properly because it is a highly effective cleaning solution that can break down and remove organic stains, kill bacteria and viruses, and sanitize outdoor surfaces without causing damage when diluted correctly and used with appropriate safety measures.  Learn more in this blog written on the subject.
WILL THE CLEANING SOLUTIONS HURT MY PLANTS? HOW ARE MY PLANTS PROTECTED?
Soft washing is a great way to clean the exterior of your home or business without causing damage. However, it's important to take extra precautions when cleaning around plants and landscaping. The Three D's - Divert, Dilute, and Decontaminate - are the key techniques used to protect your plants during a soft washing job.  Learn more in this blog we wrote on the subject.
WILL THE CLEANING SOLUTIONS HURT MY PETS?
During the cleaning process, we ask that any pets remain in the home or outside the cleaning area. After the job is completed, the yard is completely safe for your pets to access. We rinse and neutralize areas after the cleaning. If anything is remaining on the grass, it would be similar to what your pet may experience in pool water, since sanitizing agents in pools are the same as what we use.
WILL THE CLEANING SOLUTIONS HURT THE ENVIRONMENT?
Bleach is the most widely used and effective cleaning solution in the world. It's used in far more processes than most people realize in the products and services we rely on every day. Surprisingly, it is also very environmentally friendly and is formed simply from salt and water, and returns to its natural state 20 days after use. Bleach even occurs naturally in nature in a place some of you may have visited, Lake Lucero in Great White Sands National Park.
WHAT ARE MY PAYMENT OPTIONS?
We strongly encourage our customers to use paperless, electronic payments. For your convenience, invoices are sent by email and include a link for online payment through Intuit.
ARE YOU BONDED AND INSURED?
Yes. Our professional cleaning team is fully bonded and insured. Skyline Services, Inc. carries comprehensive liability coverage that exceeds industry standards. If you would like a copy of our certificate of insurance, please call our office (608) 836-8025 or email [email protected].
(608) 836-8025
3040 Laura Ln Ste 110 Middleton, WI 53562
Send Us a Message
Form in Homepage
Check Out Our Other Residential Services
Skyline's effective house cleaning solutions help to create a peaceful & healthy environment for you and your loved ones.
With our team of IICRC-trained technicians & best-in-class equipment, we'll ensure your carpets receive the proper care and attention.
We restore tile & grout to its original beauty by providing the optimal cleaning solution for your business.
Clear windows you allow the beauty of the outdoors into your home, giving your home the character and beauty it deserves.
Pressure washing removes the toughest dirt and grime you'll encounter. Our hot water pressure washer handles the job with ease.
Disinfecting & Sanitizing
Our disinfecting & sanitizing services provide the peace of mind that your home is a safe and healthy place for your family.