Residential




Window Cleaning


Madison, WI

Clean windows give your house character, providing a clear view of the outside world, and keep you and your family safe and warm. Our expertly trained staff can provide internal and external window cleaning for all the windows in your home.

Request A Quote
Effective
We specialize in simple and effective window cleaning, that leaves your windows clear and clean. 
Green
By using purified water and simple detergents we're able to clean your windows in a environmentally friendly way.
Safe
Our innovative equipment allow us to eliminate ladders as often as possible to keep our team grounded and safe.
"I have had Skyline cleaning my home for the last 12 years, and I have found them to be honest, reliable, excellent cleaners who are willing to go the extra mile to meet my needs. ."
Mary Kelly – Residential Cleaning Customer
"I hired Skyline Services to clean a relative's house that I was selling. The house was in terrible condition, and they did an incredible job making it presentable. Due to their work, the house was presentable for prospective buyers, and helped it sell. I was so impressed with the work that I've hired them to clean my house on a regular basis for the last three years. They're dependable, reliable, and do really quality work. I'm most impressed with the way they do little things around the house that show a willingness to work hard. They also take great care to prevent my cat from getting out! They bring a real professionalism to the job which I appreciate."
Jon Staebell – Residential Cleaning Customer
"We have trusted Skyline Services to clean our home for over five years. They are extremely detailed oriented, professional, and place a high value on customer satisfaction. They are a pleasure to work with and keep our home looking great!."
Marta and Aris Gialamas – Residential Cleaning Customers
"I have used Skyline Services for ten years and frequently recommend them to my friends, colleagues and clients. They are prompt, dependable, reasonable and they do an great of cleaning. Best of all, their customer service is awesome!"
Jill Stiegler, Realtor – Residential Cleaning Customer
"Skyline is a wonderful company to work with. Their work is excellent and they are very accommodating. Skyline is great about working with you on all your cleaning needs and extra things you would like done. Linda is a joy to work with and is always helpful with scheduling, unexpected events and complete care of your home. She makes sure you are happy with everything worked on by Skyline's team of people. Thank you Skyline!."
Tammy Bremser – Residential Cleaning Customer
"Working with Skyline is one of the best things that has happened to me in a decade!."
Heather Irwin – Residential Cleaning Customer
"Skyline has been a fantastic company to work with. As a busy household with young children, the extra help is a necessity. The Skyline staff are professional, trustworthy, and consistent. And Linda, one of the owners, goes above and beyond to communicate with our family (in our preferred method- email!) to ensure we are all on the same page. I highly recommend Skyline for any busy family!"
Christina Spector – Residential Cleaning Customer
"I have used Skyline Services for ten years and frequently recommend them to my friends, colleagues and clients. They are prompt, dependable, reasonable and they do an great of cleaning. Best of all, their customer service is awesome!"
Jill Stiegler, Realtor – Residential Cleaning Customer
"Spring is here. We just realized that our Spring Cleaning "to do" list is much smaller than in the past. We are coming up on our first anniversary of using your service to keep our home clean and sanitized. Thanks again for talking us into using your service. We look forward to less housework each month."
Tom and Denise Tully – Residential Cleaning Customers
Your Local Professional Window Cleaning Service
Professional Cleaning Services That Create Peaceful, Healthy Environments For Madison Area Homes
Skyline Clean


Residential Window Cleaning Services Madison, WI
Your home is more than just the place you stay, it's an investment. Cleaning your windows is a simple and inexpensive way to protect that investment.
Using the most effective cleaning tools on the market and time-tested methods, Skyline Services offers the most advanced cleaning techniques, ensuring your windows sparkle and shine for maximum visibility. Enlisting services from a professional saves you time and worry, and places your home in the best light.
At Skyline, we are licensed and insured, which allows us to provide a trouble-free service. We can arrange the service to your schedule to make sure we don't disrupt your daily activities. When working with us, you can avoid the inconvenience and expense of moving ladders and storing cleaning chemicals. We're here to make everything easier for you and your family.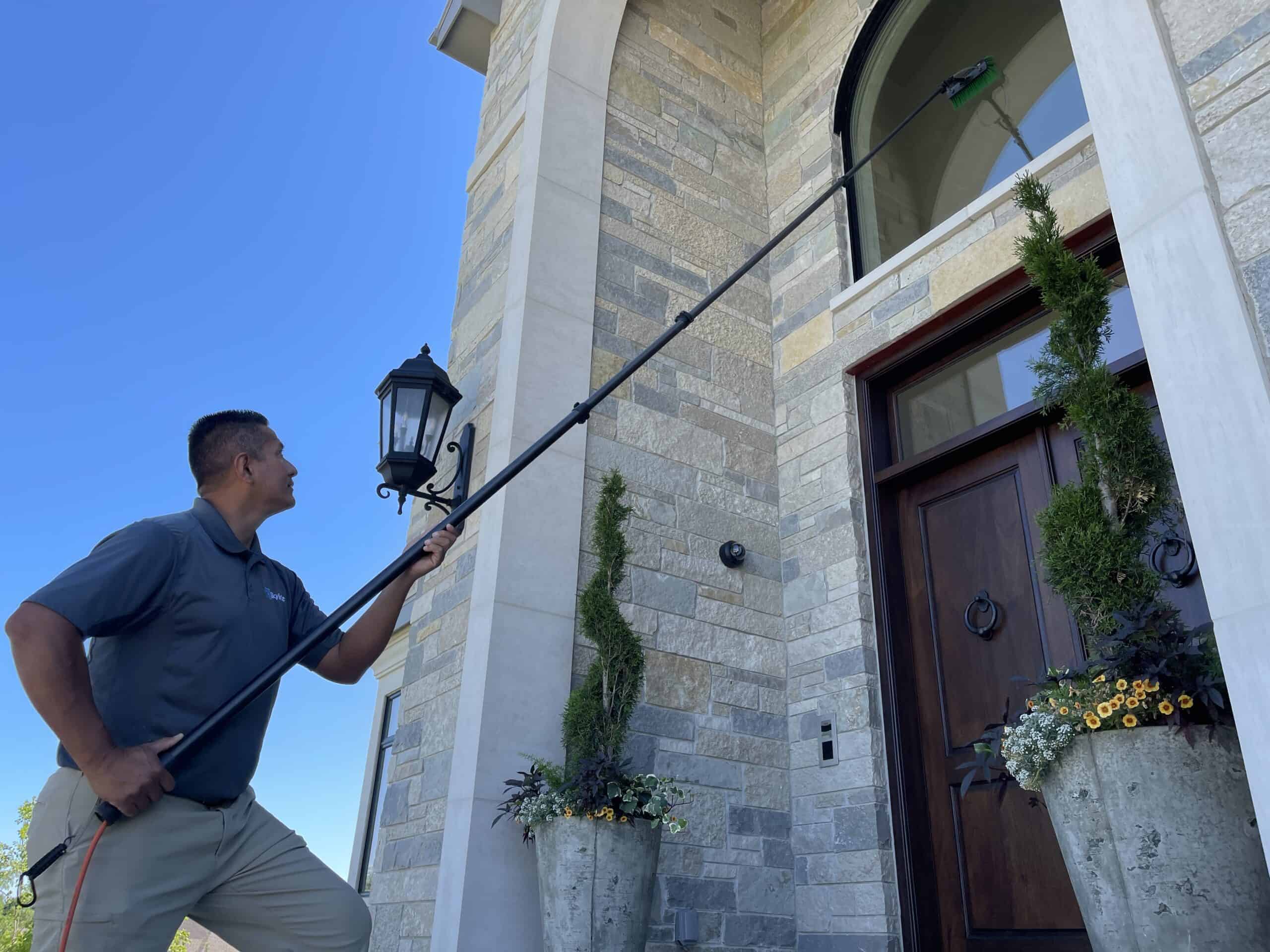 Consultation
It all begins with a conversation. Whether we are cleaning your beloved home or your successful business, our first step is to listen and understand your unique situation.
Solutions
Together we'll craft a cleaning plan to fit your space, time, and budget. Bringing order and cleanliness to your work or home environment is our passion. The Skyline team loves a good challenge, and we meet it head on.
Performance
We know actions speak louder than words, and we are committed to excellence. From Skyline's management team to our professional cleaning staff, we take pride in our work and delivering on our promises.
Results
We achieve exceptional results by building trust, meeting schedules, and providing great service. For us, success is more than leaving behind a clean space; it means leaving behind delighted, long-term customers.
Window Cleaning System is an effective alternative to standard window cleaning. RO/DI, Reverse Osmosis De-Ionized water, window cleaning uses 5 filters to bring regular, hose-fed, water to a virtually 100% clean state. As water is brought to this state it naturally becomes a cleaning agent by attracting and rinsing soil and dirt that has built up on and around your windows. No squeegees are used in the process, because the water is 100% clean it dries spot free, even in direct sunlight. And because this process uses only purified water, it is safe for the environment as well. Our window cleaning poles extend up to 65 feet in length so even the highest windows in your home are within reach. Cost savings are incredible, no ladders are used, no squeegees, not even chemical cost is an issue. Windows are cleaned quickly and efficiently with no disruption to your busy schedule.
Skyline clean's interior window cleaning systems make use of the most effective tools on the market in order to bring the outside in. Our technicians use special squeegees which allow for minimal water usage, protecting the valuables in your home, as well as leaving your windows streak free. However, the process does not end with the glass, but is extended to the frames and screens on your window. At Skyline we believe the tool is only as good as the technician who uses it, and because of that we provide the best training and techniques which ensure you are satisfied with the result. With experience on a wide variety of window types, Skyline is prepared to handle any window your home has. This experience also allows us to be in and out, helping you stay focused on your priorities. Our interior window cleaning methods produce the following advantages: 
• Efficient – Less time out of your day, and money out of your pocket
• Effective – Improves the look and feel of your home
• Safe – minimal water use in your home 
International Window Cleaners Association Members
At Skyline Services, we are proud to be members of the International Window Cleaning Association (IWCA). As a member, we have access to the latest industry training, safety guidelines, and best practices, which we incorporate into our window cleaning services to ensure that our clients receive the best possible results. Our commitment to safety and professionalism is reflected in our IWCA membership, and we strive to maintain the highest standards of excellence in all aspects of our window cleaning services. Whether you need window cleaning for your home or business, you can trust Skyline Services to deliver exceptional results with the utmost care and attention to detail.  Learn more Here.
Request A Quote
We would love to hear about your upcoming cleaning project.  Contact us and we'll work with you to create an effective cleaning plan based on your current needs.
Frequently Asked Questions
HOW DO YOU STAY IN TOUCH WITH YOUR CUSTOMER'S CHANGING NEEDS?
Everyone at Skyline agrees that speedy response time is important for maintaining happy customers. Our management team utilizes a variety of communication tools to stay in touch with you, including our customer portal, service email address, website contact form, text messages, and good old fashioned phone calls. In most cases, we will return your message immediately or within the space of two hours.
ARE YOU BONDED AND INSURED?
Yes. Our professional cleaning team is fully bonded and insured. Skyline Services, Inc. carries comprehensive liability coverage that exceeds industry standards. If you would like a copy of our certificate of insurance, please call our office (608) 836-8025 or email [email protected].
WHAT IS YOUR PROCESS FOR QUALITY CONTROL?
Once your cleaning plan is in place, we will establish benchmarks and standards for your commercial space, schedule supervisory visits to evaluate performance, seek your feedback, and strive for continuous process improvement. We are proud of the fact that our ratio of supervisors to team members is greater than other area cleaning companies, which guarantees better security and oversight for your business.
WHAT ARE MY PAYMENT OPTIONS?
Skyline strongly encourages our customers to use paperless, electronic payments. For your convenience, invoices are sent by email and include a link for on-line payment through Intuit. We also have the ability to set your company up with monthly ACH withdraws through our bank if you would like.
Some customers chose to pay with their own on-line banking methods or send a check in the mail. If you would like more information about these payment options, please email [email protected] or call (608) 836-8025.
(608) 836-8025
3040 Laura Ln Ste 110 Middleton, WI 53562
Check Out Our Other Residential Services
Skyline's effective house cleaning solutions help to create a peaceful & healthy environment for you and your loved ones.
With our team of IICRC trained technicians & best in class equipment, Skyline ensures your carpets receive the proper care and attention.
We restore tile & grout to its original beauty by providing the optimal cleaning solution for your business.
Clear windows you allow the beauty of the outdoors into your home, giving your home the character and beauty it deserves.
Pressure washing removes the toughest dirt and grim you'll encounter. Our hot water pressure washer handles the job with ease.
Disinfecting & Sanitizing
Our Disinfecting & Sanitizing services provide the peace of mind that your home is a safe and healthy place for your family.